Radikal Players
Login
Nyheter
International Kers Team League
To Start - October 15th, 2015
End - February 11th, 2016
Second Chance Ranking - February 18th-25th, 2016
Online Finals - March 5th-6th 2016
- March 12th-13th 2016
· If a bracket has players from the USA Start times will be 12PM EST or later
Not sure what a Virtual League is? You can find an explanation sheet here: What is a Virtual League
Main League Information
Entry - 10 EURO per player
Registration - Contact Radikal Dart Norge on www.radikaldart.no
Teams will be 4 main players and up to 2 alternates.
**Players can play from multiple locations/machines. Players from the same team can even play from different machines/locations during the league and second chance Ranking. However, all players on same team will need to play from the same machine during the Online Finals.**
Groups will be sorted by several criteria: PPD or MPRx8.25 (whichever is higher), virtual & presential league ranking, number of games played and historic ranking of the player. If teams have players with no Radikal Ratings at the start they will play in a group with other teams that have players without Ratings.
Teams that start with just 4 players and want to add a fifth after the league start: The new player must have both PPD and MPR and the new team average (best 4 players) cannot be higher than the worst team in the group ahead of you. Additional players can not be added in the last 2 weeks of the league.
Games can only be closed by players in the same group.
Game will be Cricket 200 (Level 1 plays standard Crk) - 15rds and 501 OI/MO - 15rds - 50/50 Bull(Master Level plays 25/50 Bull): alternating weeks.
Name of the competition at the machine: VD-REPESCA (GXX) - XX = your group number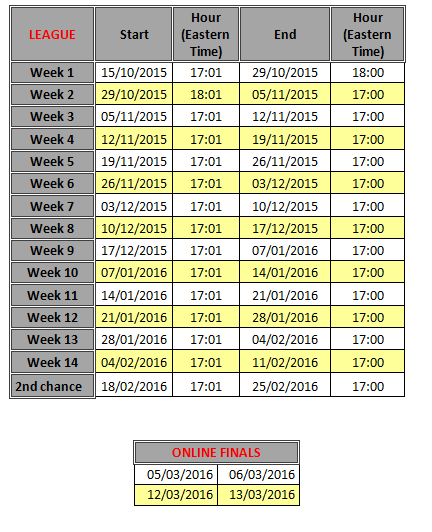 Please note some "weeks" (matches) are more than 7 days duration.
Average of your 2 best games will be used each week. Minimum of 5 games and Max of 20. A player who plays the max games in a week will also earn 5 additional FREE games (called Kers). Players can use their Kers for free games in that week or save them to use in another week later in the league. You can accumulate your Kers and use them anytime you wish, but you must also play the max games in the week you wish to use them. Players can also transfer their kers to other players on the same team.
Each team is allowed to have a max of 2 matches during the league start early. If a match's beginning date is changed to start earlier kers won in the later overlapping week cannot be used in the earlier week. If you need a match to be open early please send an email to post@radikaldart.no with your group number and the week you wish to play early.
Players will earn 1 point for each player on the other team they are better than. Maximum points per match per week are 16 (Max 4 per player).
In case of a tie in averages for 2 or more players in a match (best 2 games) the system looks at game 3 then 4 then 5 etc until someone is better.
Teams where all players play less than the minimum games (5) in a week 2 times in a half - will be disqualified. If a team is disqualified in the first half all matches for the entire league will be set to a 0-16 score. If a team is disqualified in the second half only matches from the second half will be set to 0-16. If a team is disqualified in one of the last 2 weeks of the second half, only the weeks they were disqualified for will be set 0-16. Prior weeks will remain unchanged. If your match shows your opponent has been disqualified from the league your team does not need to play games for that week, points will be awarded accordingly after the match is closed. Not playing your games against a disqualified team will not count against you as a missed match. You can still play your games to earn your free kers for the week.
Top 3 teams in each group will automatically make the online finals. Also, teams in Level 1 (Masters level) that end the league with 140 or more points will make the online final.
In case of a tie in points at the end of the league - the team with more total matches won will be considered higher. If total matches won is still a tie, then the head to head matches of the tied teams will be looked at. Whichever team won more points head to head will be considered higher. If that is still a tie, the team with the player with the highest league ranking will be considered higher.
Teams where all players do not play the minimum games in the last week will divide their Radikal Points by 2.
For 2nd Chance and Online Final only 1 player from the team can be substituted for. If a team substitutes a player after the league is finished (prior to 2nd chance or OL Final) the teams points will be divided in half.
2nd Chance Ranking
Teams in 4th -8th place per group will have an opportunity to still make the online finals by playing a Cteam 2nd chance Ranking. These teams from ALL groups will be reordered by PPD or MPRx8.25 (whichever is higher) then broken into new groups of 4. From each group of 4 - 1 additional spot into the online for the winner of each 2nd chance Ranking.
All players from each team will play a Ranking. The average of the best 2 games of the best 4 players will count. Players will get as many free games as points they scored individually for their team during the league.
Game will be 501 OI/MO - 50/50 Bull - 15 Rds w/ last chance (Master level plays 25/50 Bull)
Finals Online
All finals teams will be ordered by PPD or MPRx8.25 (whichever is greater) of the best 4 players on the team. The qualified Master Level teams will play the Level 1 final, the rest of the teams will be split into groups and sun groups with the sub groups staying within the same X group. The top X teams from the sub groups will combine to play the top 16 for prizes (per level).
Level 1-4 - Best of 5.
· Game 1 = P4P1 vs P4P1
· Game 2 = P2P3 vs P2P3
· Game 3 = P1P2 vs P1P2
· Game 4 = P3P4 vs P3P4
· Game 5 = P3,P1 vs P3,P1
All games will be Team 501 OI/MO 50/50 Bull 15 rds (Level 1 will play 25/50 Bull)
Level 1 will play No Handicap, All other levels will play with Handicap
Only 1 team per machine in the same bracket of an online final.
If a player is playing another bracket at the same time as the online final and in the same machine the team will be disqualified.
Prizes - awarded to places of the online final
La Carrera (The Race) Points
Players will also earn points for each International finals event they place in along with each International Virtual league. The top 64 players in points will be eligible to play the end of season online finals tournament in two levels, where the winner of level 1 will get a gold Radikal Darts championship ring and be crowned Radikal World Champion, and the winner of level 2 a silver Radikal Darts championship ring, along with cash prizes. Visit the link for La Carrera (The Race) at Radikal Players for all the details.
La Carrera points for finishing the online final are below. Additionally every player who finishes the League will receive extra 150 points regardless of their finish in the league.
Players must play the minimum games in at least 10 weeks of the league to receive La Carrera Points.
General Rules
Patented Remote Referee System will be used to validate matches.
Players using false or wrong identification will be invalidated and not eligible for prizes
Virtual Darts reserves the right at any time to modify the rules of any competition on the calendar if needed to ensure the integrity of the competitions
Questions about this or any event on the Sportive Calendar can be sent to post@radikaldart.no.
Radikal Players Den Beste Fellesskap av Dartspillere